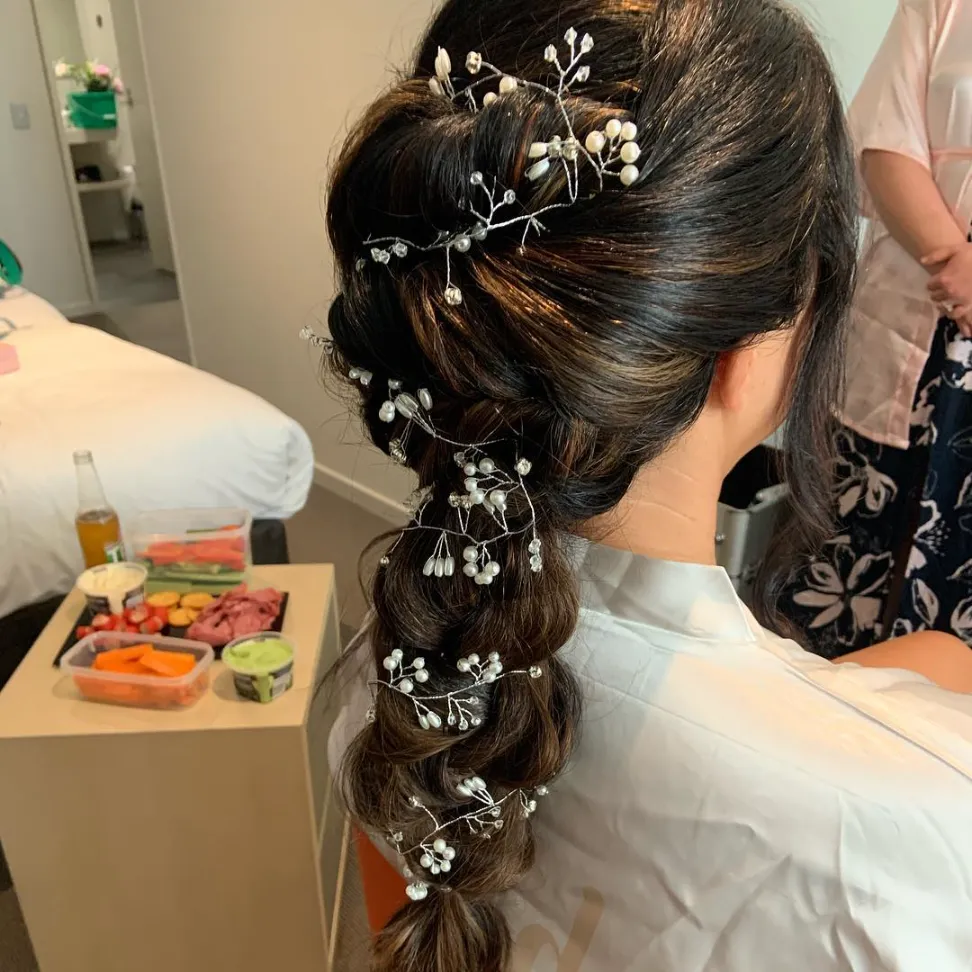 8 Tips for Choosing Your Bridal Hair Accessories
Your wedding day is a special occasion, and every detail counts, especially when it comes to your bridal hair accessories. At Bellus, we understand the importance of finding the perfect hairpiece to complement your style and wedding theme. Here are eight tips to help you make the right choice:
#1 Your Personal Style
Your personal style sets the tone for your entire bridal look. Stay true to your style when choosing hair accessories. If you're more into a romantic vibe, consider sweet flower combs or delicate hair vines. If you're a trendsetter, go for a dramatic statement piece. Planning a beach or destination wedding? Opt for simple and elegant hair flowers. Let your personal style guide you to pieces that truly resonate with you.
#2 Your Bridal Hairstyle
Your chosen bridal hairstyle plays a significant role in your accessory selection. Hold off on purchasing a headpiece until you've decided on your bridal hairstyle. Consider whether you want to wear it in the front, back, or side of your head. Our Try Then Buy program allows you to experiment with accessories before making a commitment. Also, take your hair's thickness into account; lighter pieces work better for thinner hair to prevent any shifting during your big day.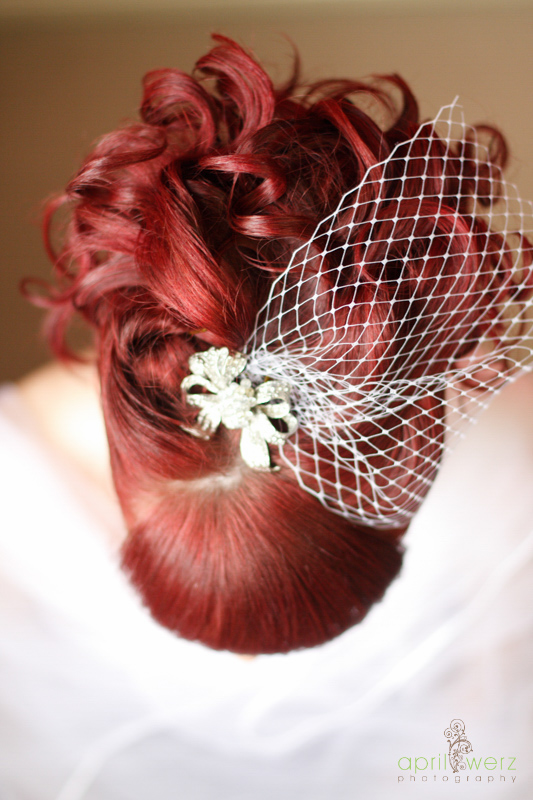 ---
#3 Your Wedding Dress
Your wedding dress is the centerpiece of your bridal look. Its style and embellishments should guide your accessory choices. A simple dress with no embellishments provides more flexibility in accessory selection. If your dress features intricate details, coordinate your accessories accordingly. Remember to consider the dress color when choosing accessories with colored elements like jewels, lace, or fabric.
#4 What color?
While silver remains a timeless choice for bridal accessories, consider current trends like gold, rose gold, or opal. Gold pairs beautifully with ivory, off-white, or champagne dresses, so aim for consistency. Match your jewelry to your hair accessories, and ensure they complement your dress and wedding's color scheme.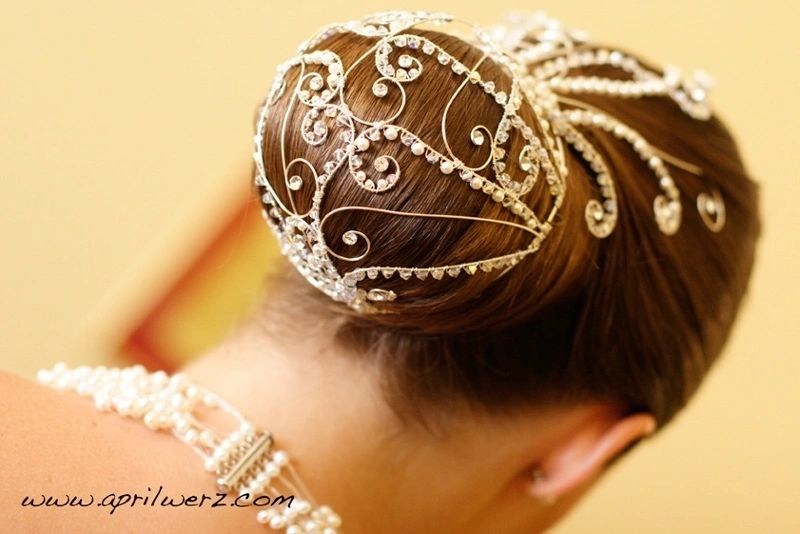 ---
#5 What Type of Bridal Hair Accessory?
Now, let's dive into the various types of bridal hair accessories;
Bridal Hair Comb or Clip: Combs offer versatility and are popular among brides. They can accentuate updos at the back or side of your head, or even work with hair down and swept to the side.
Headband or Tiara: Headbands and tiaras can create classic or dramatic looks. Choose one that aligns with your desired style, whether it's traditional or glamorous.
Hair Flowers: For a romantic touch, opt for a beautiful hair flower. Choose a simple one for a casual setting or an embellished design for an elegant yet soft and romantic look.
Hair Vines: The latest trend in bridal hair accessories, hair vines, are perfect for romantic or boho-chic styles. These flexible pieces can accentuate various hairstyles, from braided updos to dramatic forehead placements.
Hair Pins: If you prefer a simple, understated look, consider hair pins. They work best with updos or half-up, half-down hairstyles, allowing you to create various looks.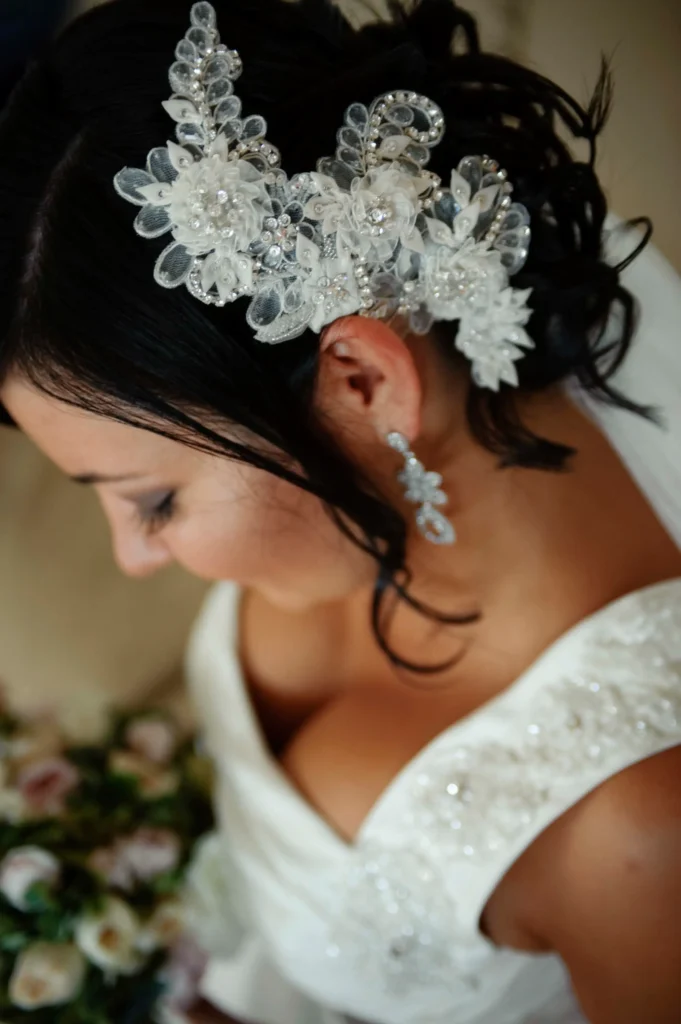 ---
#6 Change it Up
Can't decide? No problem! Change your look between the ceremony and reception. Transition from an all-down style to a fun updo, or vice versa. If you plan to switch, consider having your Bridal Hair Stylist stay to assist with the transformation.
#7 Bridal Hair Jewelry
Your bridal hair jewelry should complement your dress, bridal hairstyle, and hair accessories. Stick to the same metal color as your accessories and look for jewelry with elements that match, such as rhinestones or pearls. Coordinate your jewelry based on whether your hair accessories are visible from the front or at the back.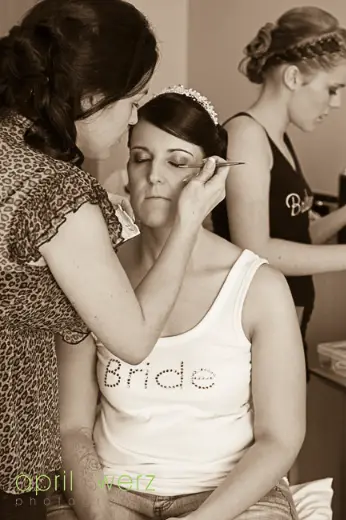 #8 Ask for help!
Don't hesitate to seek guidance from a professional bridal hairstylist. They can offer valuable advice and recommendations. If you give Amanda a call she will be more than happy to discuss your ideas and provide valuable information on the best choice for your style. The Bridal Hair trial is also a great opportunity to create the perfect look with your chosen bridal hair accessories.
Remember, the most important thing is to stay true to yourself. There are no strict rules; your wedding day is about feeling your most beautiful and authentic self. Let your heart guide you, and choose what makes you happy and confident. It's your day, and you deserve to shine!
Blog by Bellus – Bridal Hair & Makeup