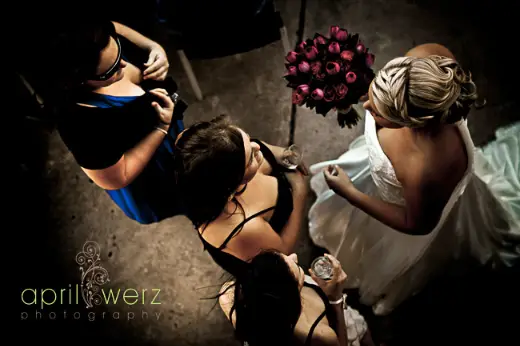 The Ultimate Guide to Bridal Hair and Makeup
Your wedding day stands as a unique milestone, and feeling your absolute best is at the core of your thoughts. The significance of your hair and makeup in achieving the ideal bridal appearance cannot be overstated. As a seasoned professional in the realm of bridal hair and makeup, I am here to be your guide through the intricacies of attaining the wedding day beauty you've long envisioned. From the groundwork of skincare preparation to the selection of the perfect hairstyle, let's delve into the domain of wedding hair and makeup.
---
Preparing for Your Bridal Beauty Look
Skincare Preparation Before embarking on your journey into the world of wedding hair and makeup, it's essential to establish a solid foundation with a dedicated skincare routine. In the months leading up to your big day, prioritise hydration, exfoliation, and nourishment for your skin. Routine facials and consultations with a dermatologist can be instrumental in achieving that radiant complexion, poised for the camera and leaving you glowing as you make your way down the aisle.
---
Hair Care Regimen Your hair merits as much attention as your skin. Depending on your hair type and the chosen hairstyle, it's imperative to invest in a hair care regimen that promotes health and shine. Regular trims, deep conditioning treatments, and minimal heat styling can make a world of difference in the lead-up to your wedding. Always remember, healthy hair serves as the canvas for your envisioned wedding hairstyle.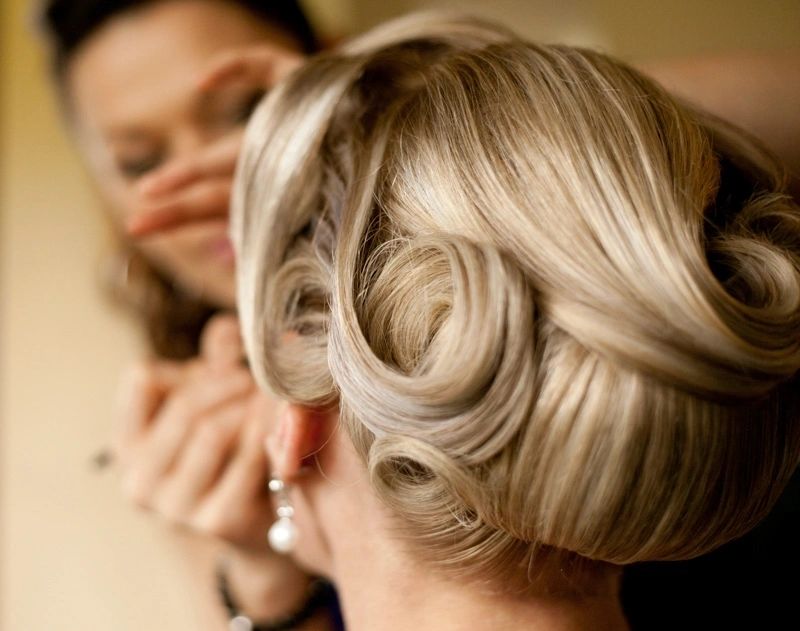 Choosing the Perfect Wedding Hairstyle
Bridal Hairstyle Trends Each bride envisions a hairstyle that reflects her personality and complements her attire. From timeless chignons to bohemian braids, there exists a hairstyle to suit every theme. Delve into the latest trends in bridal hairstyles and identify the one that best aligns with your overall vision. Don't forget anything is possible with bridal hair extensions and little padding!
---
Face Shape and Hair Styling Your face shape can serve as a guide in discovering the most flattering hairstyles. Whether your face is oval, heart-shaped, round, or square, there's a hairstyle that can accentuate your features. Collaborating with an adept wedding hairstylist can aid in determining the perfect hairstyle that matches your face shape and individual style.
---
Hair Accessories and Veils
Bridal Hair Accessories contribute the final flourish that elevates your chosen wedding hairstyle. Whether it's a delicate hairpin, a sparkling headband, or an elegant veil, these embellishments add an extra layer of allure. We'll navigate the art of seamlessly integrating accessories into your chosen hairstyle and provide insight into selecting a veil that harmonises with your look.
---
Crafting the Ideal Bridal Makeup
Makeup Styles for Different Themes Your bridal makeup should harmonise with your chosen theme. Whether you desire a classic, romantic, natural, or bold look, we'll deconstruct the key components that define each style. Always remember, makeup serves to enhance your features and convey your individuality.
---
Makeup for Different Skin Tones Selecting the appropriate makeup shades can be transformative. We'll delve into the art of choosing foundation, eyeshadow, and lipstick shades that complement your unique skin tone. Achieving a balanced and radiant complexion ensures you'll appear at your absolute best both in person and in photographs.
---
Emphasising Your Best Features Bridal Makeup is about highlighting your innate beauty. We'll explore techniques for accentuating your eyes, lips, and cheeks while maintaining a harmonious equilibrium. Whether you lean towards dramatic smoky eyes or a subtle burst of color, we have you covered.
---
Waterproof and Long-Lasting Makeup Wedding days are an emotional journey, and tears of happiness are bound to flow. This is why opting for waterproof and long-lasting makeup is a necessity. Discover the products and methods that will keep your makeup looking impeccable from the initial kiss to the final dance.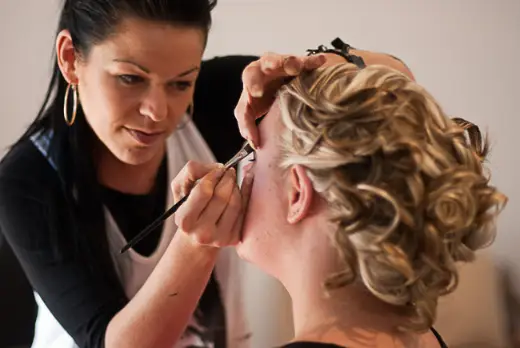 ---
The Bridal Hair and Makeup Trial
Importance of a Trial Run The bridal hair and makeup trial provides you with the opportunity to envision your wedding day look and make any necessary adjustments. We'll delve into the reasons a trial run is a vital component of the preparation process and how it can alleviate last-minute anxiety.
---
Scheduling the Trial Timing is of utmost importance. Discover when to schedule your bridal hair and makeup trial to align with other wedding preparations. Coordinating with photographers and other vendors ensures a seamless and relaxed atmosphere on the big day.
---
Communicating Your Vision Effective communication with your bridal hairstylist and makeup artist is pivotal. We'll discuss how to aptly convey your preferences and ideas, whether through inspiration images or heartfelt conversations. This collaboration guarantees you're elated with the final outcome.
---
Making Adjustments After the trial, new ideas or preferences might surface. This is the opportune time to fine-tune your bridal hair and makeup look. We'll navigate how to communicate these adjustments and ensure you stride into your wedding day radiating confidence.
---
Tips for a Flawless Wedding Day Look
Timing and Coordination Creating a well-structured timetable for bridal hair and makeup on the wedding day is paramount. We'll guide you through the process of synchronising with photographers, bridesmaids, and other vendors to ensure an effortless and serene atmosphere.
---
Touch-Up Essentials While your initial appearance will be stunning, a few touch-ups during the day are essential. Uncover the indispensable makeup products that should be at your disposal to uphold that picture-perfect look until the final dance.
---
Handling Nerves and Stress Nervousness on the wedding day is customary. We'll share relaxation methods and pointers to keep those jitters in check as you prepare to step into the spotlight. Remember, confidence serves as the ultimate accessory.
---
Conclusion Your voyage toward attaining the perfect bridal hair and makeup look attests to your dedication and anticipation. Throughout this process, remember that your beauty emanates from within and is gracefully elevated by the decisions you make. Embrace your distinctive radiance and look forward to a day suffused with enchantment and cherished memories.
---
Final Thoughts As you embark on this transformative odyssey, bear in mind that you're not merely shaping a bridal hair and makeup look; you're crafting a treasured memory. Embrace the journey, relish the experience, and let your inner beauty radiate on your wedding day.
---
Ready to Commence? Contact Amanda at Bellus to Arrange a Trial! I'm here to actualise your bridal beauty vision. Let's collaborate to devise a bridal hair and makeup look that mirrors your style and augments your innate beauty. Reach out to me at Bellus to schedule your bridal hair and makeup trial and initiate the initial step toward your ideal wedding day appearance. Your dream wedding awaits!
Make sure you check out my post with all of my frequently asked questions about bridal hair and makeup.
---
Blog by Bellus – Bridal Hair and Makeup Artists near me