Planning Your Dream Wedding – The Ultimate Guide
Congratulations, lovebirds! You've just taken a step into the enchanting world of wedding planning, where your dreams are about to come true. But hold on to your bouquet, because planning a wedding isn't all rainbows and roses – it's a journey that requires equal parts excitement and organisation. Fear not, for we've got your back! This 40 step guide will take you on a whimsical ride through the months leading up to your big day, helping you plan the celebration of a lifetime while keeping your sanity intact. So, grab a glass of bubbly and let's dive into the ultimate wedding planning timeline!
---
12 Months Before: Setting the Stage
Step 1: Cha-Ching Goes the Budget Let's kick things off with the most vital element: the budget. Your wedding dreams need a reality check, and that's where the budget swoops in. Break out the calculator and spreadsheet wizardry to allocate funds for your wedding venue, vendors, and everything in between.
---
Step 2: Save the Date, Literally Choosing the wedding date and venue is like picking the flavor of your favorite cake – it sets the tone for the whole experience! Keep your options open but remember, the early bird gets the worm. Once you've locked in your budget, go hunting for your dream wedding venue. Nab that spot and savor the victory!
---
Step 3: The Guest List Grandeur Gather 'round, dear ones! Time to channel your inner casting director and create the ultimate guest list. Budget constraints might cramp your style, but keep the peace and the guest list real, and you're golden.
---
Step 4: To Hire or Not to Hire (a Planner) Is the planning frenzy giving you wedding jitters? Cue the wedding planner! These magical beings can turn your Pinterest board into reality while you sip cocktails and enjoy being engaged.
---
Step 5: The Vendor Safari Begins Ready to go vendor hunting? It's like playing matchmaker for your wedding. Caterers, wedding cake, wedding photographers, Wedding hire cars, musicians, hair and makeup artist, florists – you name it, you're on the hunt!
---
11 Months Before: Nailing Down the Nitty-Gritty
Step 6: The Final Countdown Guest List Now that you've had a taste of what your budget can afford, finalise your guest list. This isn't a Hogwarts acceptance letter; be realistic and include travel-friendly options.
---
Step 7: Say Cheese and Smile, Please Your wedding day is a blockbuster movie – don't you want the best cinematographers in town? Research, referrals, and a dash of pixie dust can help you find the perfect wedding photographer and videographer.
---
Step 8: Your Wedding Party Dream Team Choosing your wedding party is like assembling Avengers for the ultimate battle. Select your trusted sidekicks to be your bridesmaids and get ready to rock your big day!
---
Step 9: Dress Hunting, Y'all! Cinderella had her glass slipper; you've got your wedding dress. Channel your inner fashionista and embark on the quest for the perfect gown. Bridal shop appointments are your magic carpet ride.
---
Step 10: Floral Fantasia Wedding flowers are like the confetti of nature, and your wedding deserves an explosion of petals! Find a florist who speaks your floral language and watch them work their magic.
---
10 Months Before: It's All Coming Together
Step 11: Catering Capers Food is the key to guests' hearts. Tantalise their taste buds and book a caterer who can whip up a culinary storm within your budget.
---
Step 12: The Groovy Beats To dance or not to dance? That's not even a question! Get your groove on by choosing the wedding music that will make your guests cha-cha-slide the night away.
---
Step 13: Honeymoon Dreams After the confetti settles, whisk away to paradise with your honey. Research, flights, accommodations – it's a whirlwind adventure in itself!
---
9 Months Before: Let the Creativity Flow
Step 14: Invitations: The First Glimpse Time to let your creativity soar! Design invitations that tease your guests about the magical day ahead. Get them in the mail early so everyone can RSVP on time.
---
Step 15: Transporting the Party Whether it's a sleek limo or a party bus ready to groove, arrange wedding day transportation that pampers you and your guests on the wedding day.
---
8 Months Before: Sweeter Than Cake
Step 16: Cake-tastic Delights Your wedding cake should be as sweet as your love story! Find a baker who can whip up a cake that tastes like heaven and looks like a dream.
---
Step 17: Glam Squad Goals Glamour and grace – that's your mantra for the day. Book a bridal hair and makeup artist who can transform you into a wedding-day masterpiece.
---
6 Months Before: Invitations Away!
Step 18: Invitations Take Flight As the sun begins to set on singlehood, let your invitations take flight, spreading the news of your upcoming nuptials.
---
Step 19: Bands of Love Inscribe your commitment into the eternity of rings. Choose wedding bands that symbolise your love story, and do it with style!
---
5 Months Before: The Final Touches
Step 20: Vendor Check-in It's showtime! Confirm all the nitty-gritty details with your vendors, ensuring your wedding day puzzle pieces fit together seamlessly.
---
Step 21: Dress Rehearsal, Literally Practice makes perfect, especially when it comes to your wedding dress. Schedule those fitting sessions to ensure you're a vision of beauty on the big day.
---
4 Months Before: Crafting the Ceremony
Step 22: Crafting the Ceremony Magic Work your wizardry with your wedding celebrant to craft a ceremony that resonates with your journey. Readings, vows, and a sprinkle of magic – this is your show!
---
Step 23: Honeymoon Highways Your honeymoon should be as epic as your love story. Book flights and accommodations early to snag those sweet deals.
---
3 Months Before: Legal Love
Step 24: The Marriage License Quest Before you say "I do," you need the magic key – your marriage license. Get those documents in order and conquer the paperwork dragon!
---
Step 25: Favor Fairytale Gift your guests a piece of the magic with wedding favors that are thoughtful and memorable. Show them that they're part of your happily ever after.
---
2 Months Before: Seating Symphony
Step 26: Seating Symphony Channel your inner conductor and create a seating chart masterpiece. Ensure your guests have harmonious seats for the grand performance.
---
Step 27: The Grand Vendor Reunion Give vendors a virtual group hug and confirm the final details. Keep the communication lines open for a flawless execution.
---
1 Month Before: The Final Countdown
Step 28: The Venue Vows Finalise the details with your venue coordinator to ensure a seamless transition from ceremony to reception. It's showtime, baby!
---
Step 29: Honeymoon Packing Party Pack your bags for the adventure of a lifetime! Remember sunscreen, your favorite swimsuit, and an adventurous spirit.
---
The Final Week: Deep Breaths
Step 30: Vendor Head count It's time to play the numbers game – confirm the headcount with your caterer and ensure they're armed with enough deliciousness.
---
Step 31: Attire, Check! Your wedding attire should fit like a glove. Pick up your dress and tuxedo/suit and ensure you're ready to dazzle.
---
Step 32: Transport Triumph Confirm your transportation arrangements for a smooth journey to the altar and beyond.
---
Step 33: Vendor Appreciation Ensure you have sorted all your invoices prior to the big day!
---
Step 34: Rehearsal Round Two Run through the ceremony and reception with your wedding party, smoothing out any last-minute kinks.
---
The Night Before: Deep Breaths (Again)
Step 35: Rehearsal Dinner Delight Wind down with a rehearsal dinner surrounded by your nearest and dearest. Enjoy a delicious meal and soak in the love and excitement.
---
Step 36: Beauty Sleep Hit the hay early – you want to wake up looking and feeling like a radiant bride or dashing groom!
---
The Big Day: Love in Full Bloom
Step 37: Pamper Time Let the professionals work their magic. Hair and makeup – you deserve to be pampered!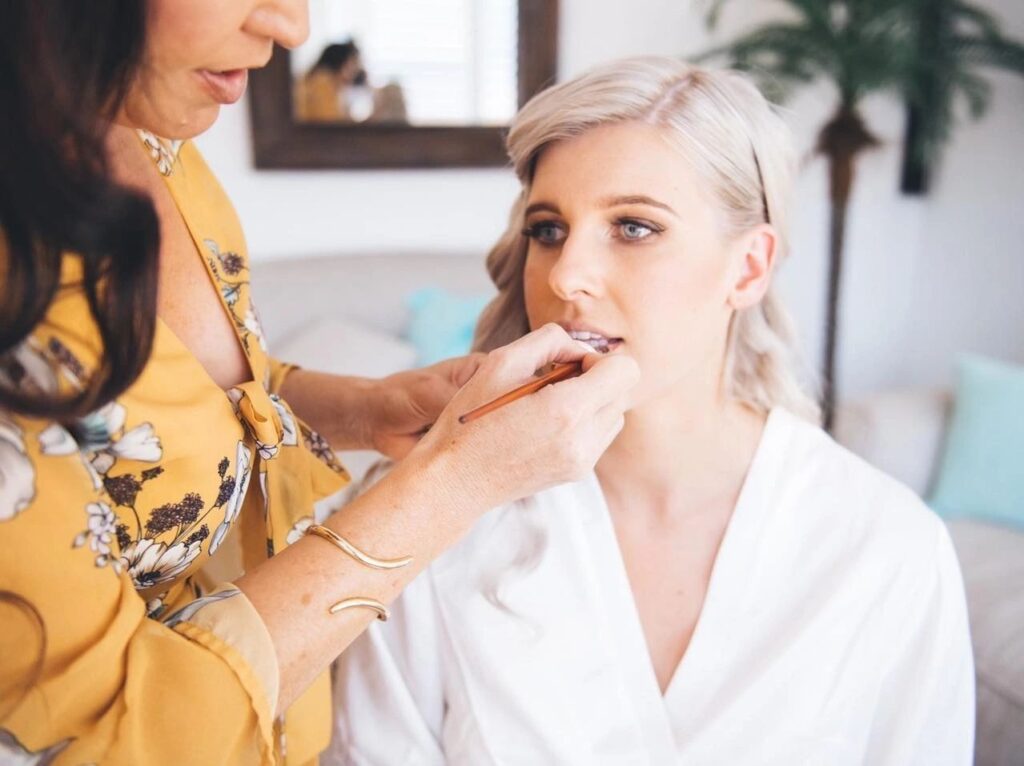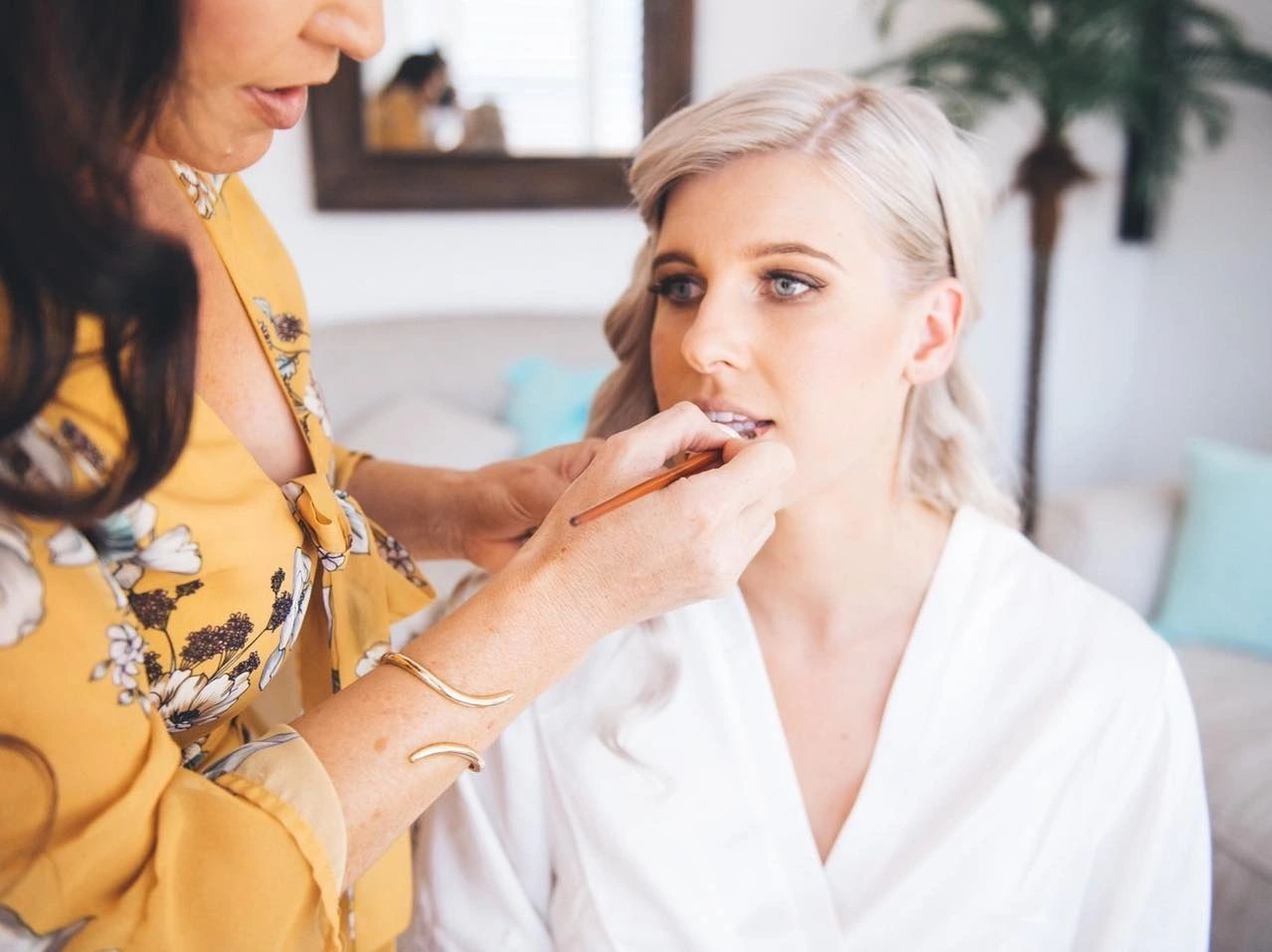 ---
Step 38: Love Unwrapped Take a moment to exchange gifts with your partner. A small token of your affection before the whirlwind begins.
---
Step 39: Capture the Magic Capture the pre-wedding jitters, the laughter, and the love in unforgettable photos.
---
Step 40: Let the Celebration Begin! It's showtime, folks! Let loose, dance like nobody's watching, and soak in the magic of your special day.
---
Conclusion: The Beginning of Forever
And there you have it – the ultimate wedding planning timeline that's as enchanting as the journey to forever itself. Remember, your wedding day is a masterpiece in the making, and every step of this journey is a brushstroke that adds to the grand picture. So, relax, embrace the chaos, and bask in the joy of knowing that your dream wedding is just around the corner. Enjoy the adventure, lovebirds!
Blog by Bellus – Bridal Hair and Makeup