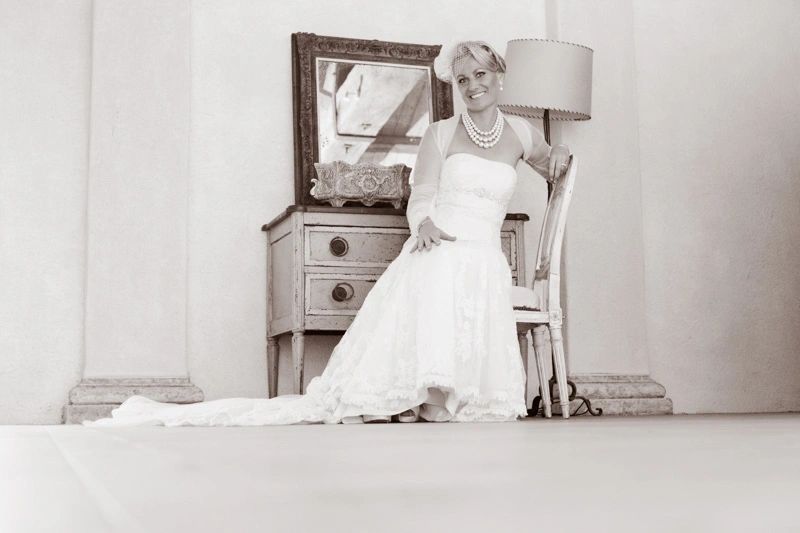 The Bellus Bridal Beauty Session – Bridal Hair and Makeup Questions and Answers.
Welcome to our Bellus bridal beauty Q&A session! At Bellus, we understand that your wedding day is one of the most significant moments in your life, and looking and feeling your best is a top priority. That's why we've gathered a wealth of knowledge and expertise to address all your burning questions about bridal hair and makeup.
Whether you're wanting to get to know Amanda better, seeking advice on the latest bridal trends, tips for a flawless look, or guidance on how to choose the perfect bridal style, you've come to the right place. Bellus is here to provide you with insightful answers, helping you achieve the bridal beauty you've always dreamed of. Let's dive into your bridal hair and makeup questions and make your wedding day even more special
---
1. How long have you been a hair and makeup artist?
I have been a makeup artist for 18 years and a hairstylist for 24 years.
---
2. How did you start out as a makeup artist?
I always had a passion for makeup throughout my hairdressing career. In 2007 I combined my makeup artistry passion with my hair styling skills and started Bellus.
---
3. Where do trials take place?
Trials usually take place at my home in Cameron Park, Newcastle. Cameron Park is located centrally between Newcastle, and the Hunter Valley. Also conveniently located just off the M1 if you're travelling from Sydney or the Central Coast areas.
---
4. How far do you travel?
I focus my energy on brides getting married in Newcastle, Hunter Valley, Port Stephens and the Central Coast. Travel fees do apply, so check my bridal hair and makeup pricing page on my website.
---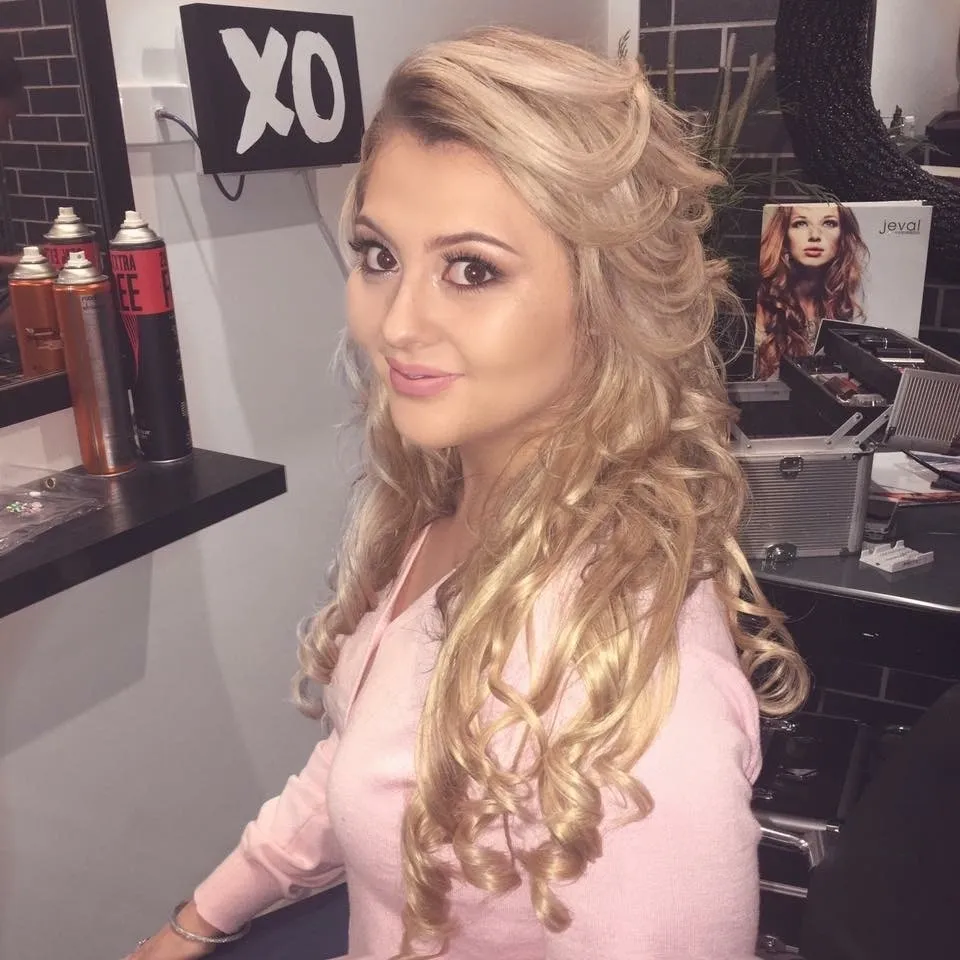 ---
5. Should I have a hair and makeup trial?
Ideally yes, this is the perfect opportunity to align your vision with my expertise and it gives us time to explore options. Gives us time to create your perfect bridal look and provides you an opportunity to see how long your hair and makeup will last, which will give you a little confidence boost. It also gives us some time to get to know each other.
I have a great blog post on bridal hair and makeup trials here.
---
6. What happens at a hair and makeup trial?
Before your bridal hair and makeup trial, I'll kindly request that you come with clean, dry hair – no need for any product in it. Also, I'd love it if you could embrace your natural beauty and arrive without any makeup. This way, we can start with a fresh canvas.
During the trial, we'll sit down and chat about any ideas you may have in mind. Feel free to share any images you've found or saved – they can be a great source of inspiration!
Don't forget to bring along your veil, hair accessories, and the earrings you plan to wear on your big day. These details are essential as we'll incorporate them into your final look. Together, we'll work our magic to craft a style that perfectly matches your personality and vibe.
Typically, we'll aim for one stunning makeup look, but don't worry, we're open to making adjustments along the way to ensure you're thrilled with the final result. And for your hair, we'll create one fabulous hairstyle that'll leave you feeling like a bridal superstar.
I usually set aside about an hour for your makeup trial and another hour for your hair trial. This generous timeframe allows us to focus on perfecting your style and addressing any other important details related to your wedding day preparations. So, rest assured, we'll take the time needed to make everything just right for your special day.
---
7. Can you do my wedding without a trial?
Absolutely. Trials are great to get to know your artist but in reality, busy schedules or budgets don't always stretch for this. As long as you feel confident in my work and confident to ask for tweaks as we go along, I am more than happy to arrive without a trial.
---
8. Can I have a trial before I book you?
Yes, you can. Dates are not held in my diary until a deposit is paid. Your date may get snapped up during this time. I will always try to keep you informed but I cannot guarantee it.
---
9. How can I get the most out of my hair and makeup trial?
Preparation is key. Come armed with lots of images of the hair and makeup you like. A good point to remember here is to try to find makeup looks on people with a similar skin tone and eye colour to you. Something that looks great on one skin tone doesn't always translate well onto others. Check my blog post on hair and makeup trials for more information.
---
10. How many people can you fit into the wedding morning?
This all depends on the time of your wedding. For larger wedding parties with more than 5, I will also bring an assistant with me for ease. Bellus has provided hair and makeup for parties up to 14!! Additional hair stylists and makeup artists are on hand to assist me and there are no additional costs to you for this extra help!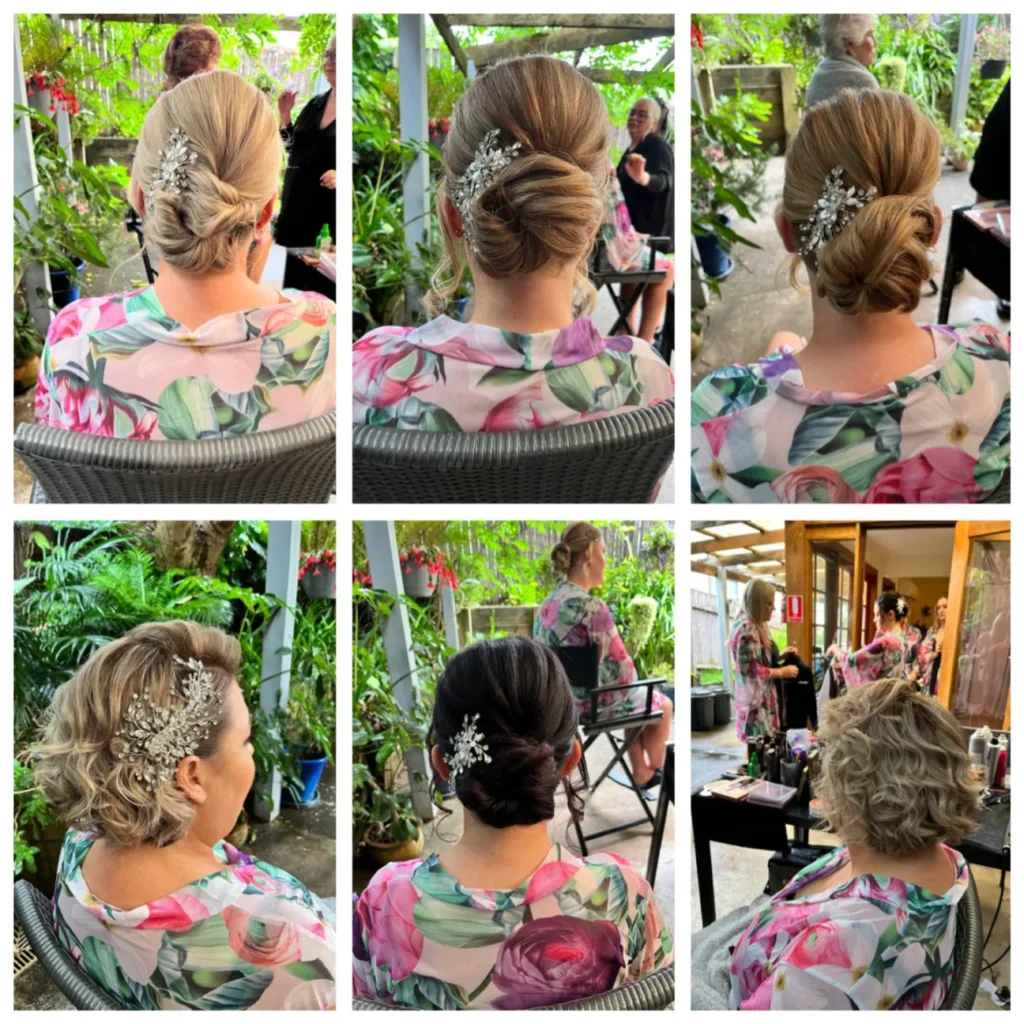 ---
11. How do I get in touch with you?
The best way is through my contact Amanda page.
---
12. How far in advance should I book my bridal hair and makeup services?
Ideally, to avoid disappointment you should lock in your wedding day when you are locking in your venue and photographer. This will ensure you don't miss out. The Bellus calendar books out super quick, as we only focus on one wedding each day. This is great for an organised bride, but not if you leave it too late!
---
13. What is the average cost of bridal hair and makeup?
With Bellus, the average cost for bridal hair and makeup per person is $240-$260. Hair and Makeup trials are either $110-$220, depending on whether you want both Hair and/or Makeup.
---
14. Do you require a deposit?
Yes, a $150 non-refundable deposit is required to lock in your wedding date. Once the deposit has been paid, I won't accept any weddings on your day. The day is reserved exclusively for you and your bridesmaids. This shows me that you definitely want me and I can confidently decline other weddings for your wedding date. The deposit will be subtracted from your total amount at the time of final payment.
---
15. What happens if I need to reschedule my appointment?
Trials can easily be rescheduled to another time that suits us both.
Rescheduling a wedding date is a little more difficult. It just depends on my availability. So, rescheduling early is better, but if this problem arises, I will do everything I can to support you.
---
16. Do you offer on-site services?
100% – That is what we do! We provide mobile bridal hair and makeup services for Newcastle, the Hunter Valley, Port Stephens and the Central Coast. In the comfort of your own home or hotel on the day of your wedding. I bring everything I need; all I require from you is power and a little clear space to work my magic.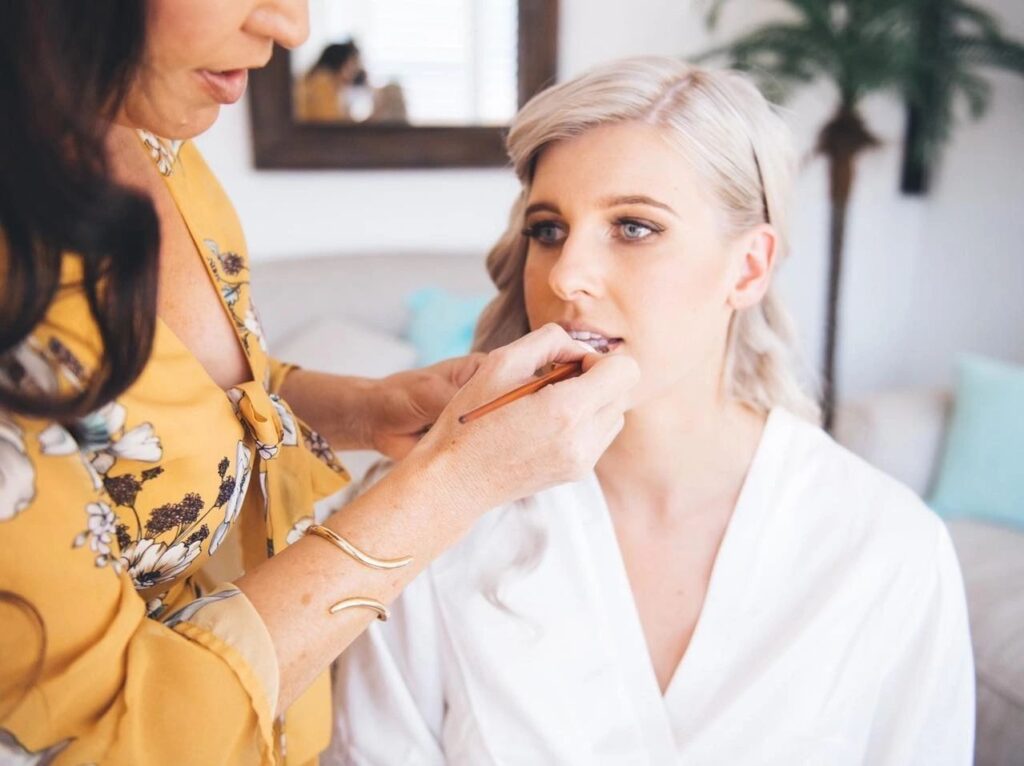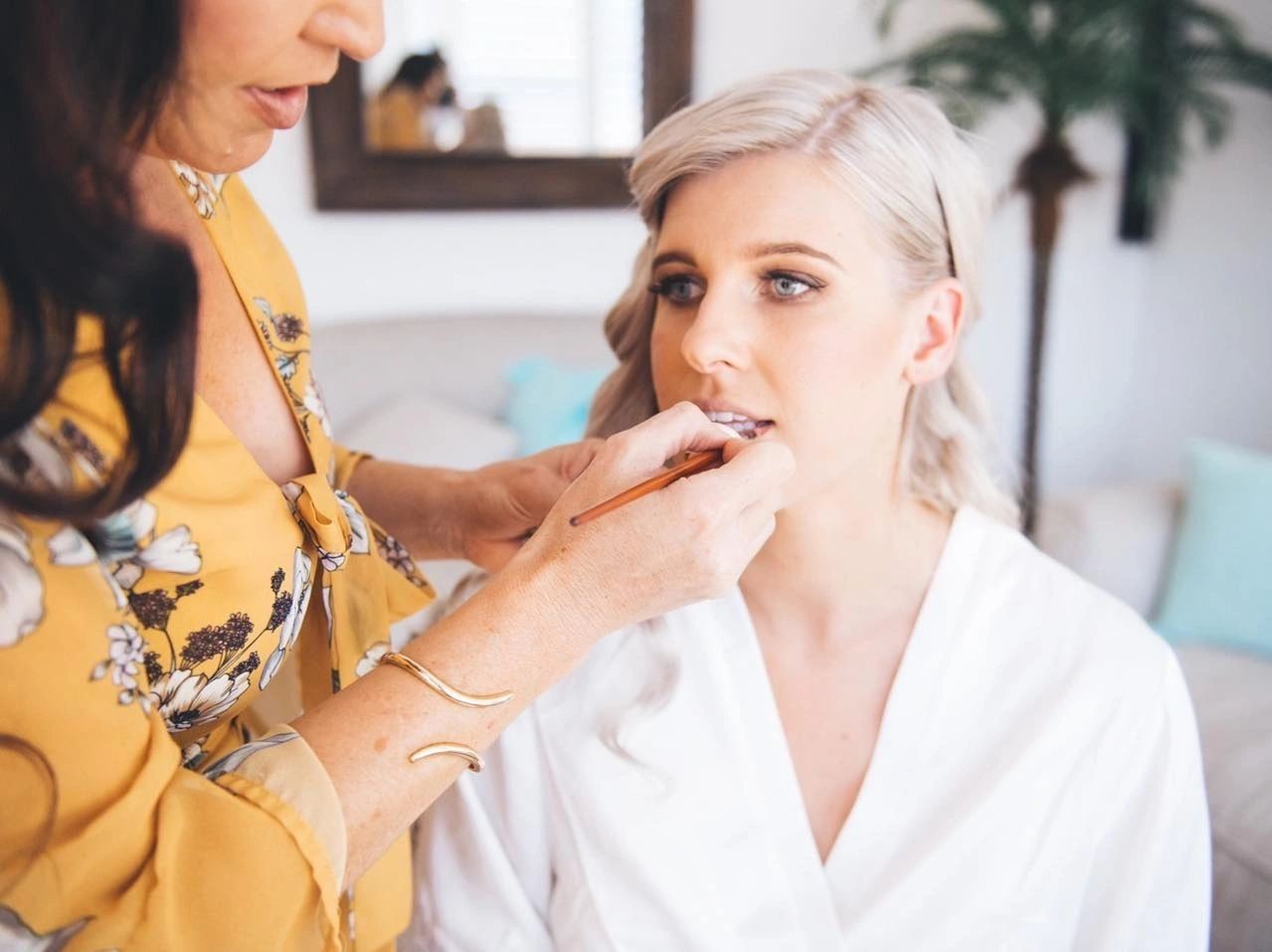 ---
17. How long will my hair and makeup last on my wedding day?
The products and techniques I use ensure your hair and makeup lasts the entire day even the night! My brides have consistently stated that their hair and makeup has lasted their entire evening.
---
18. Can you work with different skin tones and hair types?
With more than 16 years of experience I have worked on every skin tone and hair type that you could possibly throw at me. You have nothing to worry about there.
---
19. How do I choose the right hairstyle for me?
Your bridal hairstyle should resonate with your personality and style, are you a classic romantic, a bohemian free spirit or a modern minimalist? Think about how you usually wear your hair and what makes you feel the most confident. Your wedding hairstyle should also compliment your dress and the wedding venue too! I have a great guide on choosing the perfect wedding hairstyle here.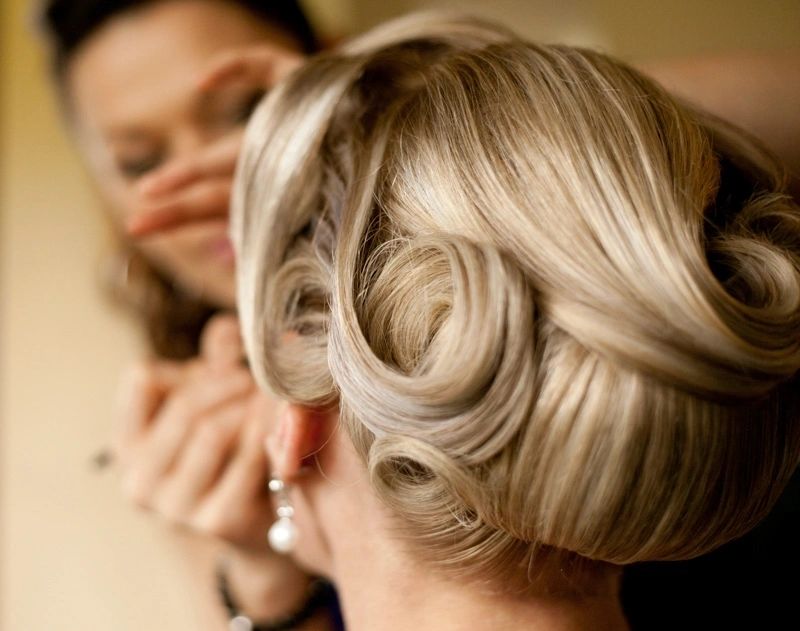 ---
20. How do I choose the right makeup style for me?
It's important that your bridal makeup reflects your personal style. Are you a classic bride, an ethereal goddess, or a modern trendsetter? Take your time scrolling through Pinterest and Instagram and find makeup styles on people with a similar skin tone and eye colour to you. Remember to stay true to yourself, the most important thing is ensuring you feel confident and comfortable in your own skin. I have a great guide on choosing your perfect makeup style here.
---
21. What is the difference between airbrush and traditional makeup?
As a makeup artist, I appreciate the beauty of airbrushing but also recognise the value in traditional makeup foundations. Nor do I believe one method is more superior than the other. I have a great guide explaining everything there is know about airbrush makeup and the benefits of both traditional bridal makeup and airbrushing here.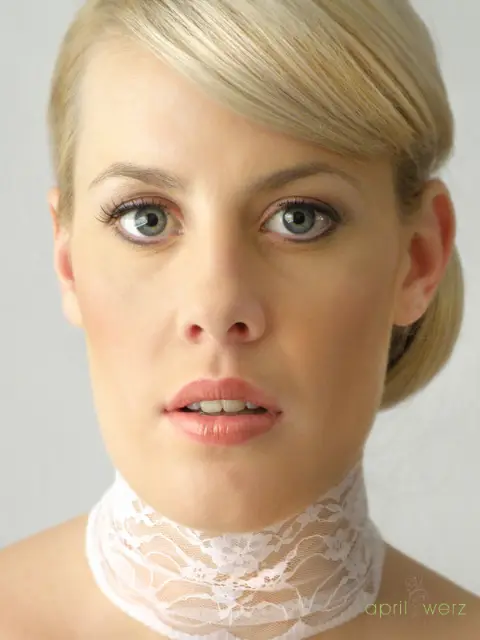 ---
Questions to ask your potential Bridal Hair and Makeup Artist.
22. Will the Stylist that is doing my Trial be the same person that is doing my hair and makeup on the wedding day?
If a different Stylist rocks up on your wedding day, you will not receive the exact same look as your trial. With Bellus, you are guaranteed to have myself for both your trial and your wedding day. If you have a larger party, I will conduct the trial and help you create a style you are happy with. On the wedding day, I can do both your hair and makeup, and then focus on hair whilst my assistant attends to the bridesmaid's makeup. Whatever you are comfortable with and that makes the morning run smoothly and stress free.
---
23. Does the Stylist book more than one wedding per day?
The last thing you need is your Stylist over booking and rushing off to get to another wedding. Bellus only books one wedding per day, so you can be confident that I have nowhere else better to be! I am with you until you are completely satisfied.
---
24. How long does it take to complete bridal Hair and Makeup?

The average time for Makeup is 45 mins and Hair is 45 mins. If it's significantly longer than that then your stylist may be less experienced which should ring alarm bells. For your wedding preparation to run smoothly and stress free, you want an experienced professional by your side.
---
So, there you have it. I hope this blog post has answered all your bridal hair and makeup questions that you have regarding your makeup and hair for your special day. Hopefully, it has also answered a few more bridal hair and makeup questions that you hadn't even thought of.
Send me an email through my contact page when you are ready to lock in your wedding date.
Blog by Bellus – Mobile Bridal Hair and Makeup – Newcastle, Hunter Valley, Port Stephens and Central Coast Areas.